Police sell Michaela Hutchings' designer haul on eBay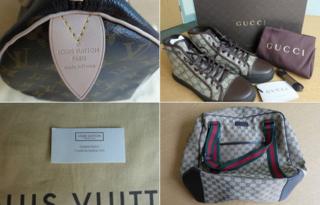 Designer clothes bought by a woman who went on a spending spree after she was credited with more than £51,000 in a council error are being sold by police on eBay.
Michaela Hutchings, 23, from Lichfield, received money which should have been paid to a housing association.
Within two days she spent £5,000, gave her mother £1,000, and used another £1,000 to clear a fine.
The goods are being sold under the Proceeds of Crime Act.
Staffordshire Police listed branded clothes, shoes and bags, on the website, with the auction due to end next Thursday. A second seven-day auction of more goods is due to begin on Friday.
The items for sale include Kurt Geiger slippers, a Gucci bag and Dior sunglasses.
In March, Stafford Crown Court sentenced Hutchings to a 12-month community order and 150 hours of unpaid work after she admitted dishonestly retaining a wrongly credited bank transfer.
She has returned £40,000 to Lichfield Council.