Stoke railway station hosts WW1 memorial service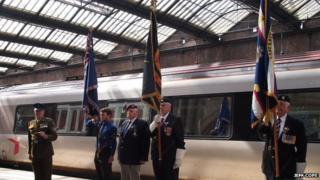 A memorial service was held to commemorate the deaths of railway workers during World War One.
Held on a platform at Stoke railway station, Saturday's service was attended by dozens of people.
A service from Railway Chaplain the Rt Reverend Richard Cook included two minutes' silence and was followed by a re-enactment of soldiers receiving the King's Shilling.
Standard bearers attended and the event ended with a wreath laying.
The service was arranged to coincide with the 100th anniversary of the outbreak of World War One to salute all the railway workers who left their jobs in North Staffordshire to fight for their country.
The wreath was laid at the foot of the cenotaph at the station, which features names of railway workers who lost their lives in World War Two.
Jeff Cope, a retired train fireman, said his motivation to organise the event came from reading the 671 names on the roll of honour he owns for those North Staffordshire Railway Company workers who died in conflict from 1914-16.