Car crashes into Cannock Beefeater pub toilets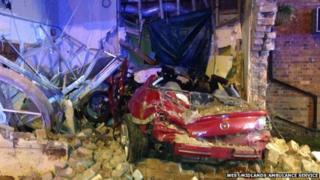 A car smashed through a wall into a pub's toilets, leaving the vehicle crushed but the driver miraculously alive.
The man, believed to be in his late 30s, was trapped for 90 minutes at the Longford House Beefeater in Cannock following the crash at 01:35 BST.
The car went over a wall and became embedded in the building, which was massively damaged.
The victim had leg injuries and was taken to hospital.
Emergency blood supplies were taken to the scene of the crash on the A5 as fire crews worked to cut the driver free.
A spokesman for Beefeater said no-one was in the restaurant at the time of the crash.
"We are aware of an incident that took place in the early hours of this morning involving a car at the Longford House Beefeater site that has resulted in some structural damage," he said.
"As the safety of our guests is our number one priority, we have made the decision to close the Longford House Beefeater temporarily until necessary repairs can be made.
"The site will continue to support the police with their enquiries during the investigation."
An ambulance service spokesman said: "Considering the damage to the car and the extensive damage to the building, it is extremely fortunate no-one was more seriously or fatally injured in the crash."