Staffordshire Police Taser use reviewed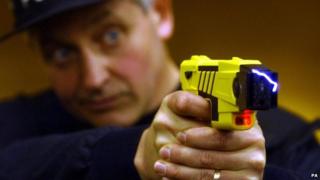 An independent panel is to investigate the high use of Tasers by Staffordshire Police.
The force has the highest use of Tasers per capita in the country, according to a report by the Independent Police Complaints Commission (IPCC) last week.
Staffordshire Police used a Taser 33 times for every 100 officers in 2013 and a total of 619 times in nine years.
A panel set up by Staffordshire Police and Crime Commissioner (PCC) Matthew Ellis is to review their use.
It is made up of eight members of the public, reporting to the PCC.
Mr Ellis said the weapons were often used as a deterrent and out of the 619 times they were drawn by officers, they were only discharged on 72 occasions.
The PCC's office said the force received only six complaints about Taser use last year.
Last year Tasers were unholstered more than 10,000 times in England and Wales, although in eight out of 10 cases they were not fired.
The IPCC said they were more likely to be deployed by smaller police forces. Staffordshire's figures last year were almost three times the rate of West Midlands Police, per 100 officers.
The watchdog has also called on officers to do more to justify the use of Tasers against suspects already in custody or vulnerable people.