Bentley workers protest after being made to work four days a week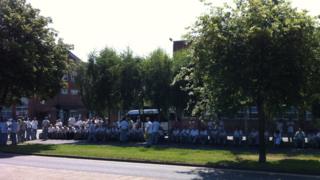 Engineers at the car maker Bentley Motors have held a protest outside its headquarters in Crewe against plans to reduce their hours until Christmas.
The firm said shop floor workers' shifts would be cut from five days to four from August but they would be paid their normal salaries.
Unions have claimed employees would have to work longer hours in 2015 to claw back the time on their contracts.
A spokesman for Bentley said no permanent jobs would be lost.
About 100 workers staged a "peaceful protest" during their lunch break at the Pyms Lane factory in Crewe.
'Flattening of demand'
Steve Astles, who works on the factory shop floor, said: "The company wants us to bank hours now so that they can have us in whenever they want us in for production next year.
"Figures show sales in China are up 61% yet the company have told us the reason for change in working practices is falling sales, so is there really any need for time banking?"
The Unite union said workers would also miss out on overtime payments and that some agency staff would be made redundant.
A spokesman for Bentley said the company was at risk of "over-production" after market research showed there would be a "flattening of demand for luxury cars" later this year.
He said: "To address this we need to adjust the production plan for the second half of the year, from August to December.
"We are fully confident normal working hours will return at the beginning of 2015."
The company announced earlier this month that it was on course for record sales in 2014 after a 23% increase in deliveries in the first half of the year.
Bentley delivered 5,254 cars in the first six months of 2014, up from 4,279 cars in the first half of 2013.