Staffordshire Police officer suspended for 'knock-out threat'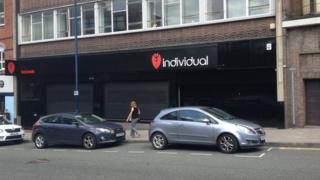 A police officer has been suspended after a video posted online appeared to show him threatening to "knock out" a woman in Stoke-on-Trent.
The footage seems to show an argument between a group of people and some officers outside a nightclub in Hanley.
Police were called to the Individual Bar in Trinity Street at 02:00 BST on Sunday after reports of disorder.
The video appears to show an officer claiming a woman tried to punch him and threatening her.
The footage appears to show him telling her: "Do that to me again and I will knock you out."
It has been posted on YouTube and the Sentinel newspaper website.
Staffordshire Police said the incident was being investigated and had been referred to the police watchdog.
Formal complaint
A spokesman for Staffordshire Police said it had received a formal complaint and had decided to suspended the officer while it carried out an investigation.
He said: "Our communities expect only the highest standards of conduct from our officers, and whilst we recognise they can often face challenging situations, it is important that they remain professional throughout.
"Experienced investigators from our performance assessment unit will be maintaining contact with the member of the public concerned."
The incident had been voluntarily referred to the Independent Police Complaints Commission, he said.