Stafford Hospital protest camp 'to stay for six weeks'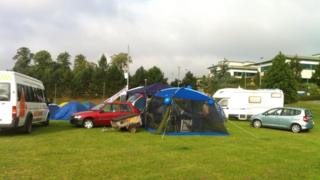 A protest camp set up outside Stafford Hospital is to stay there for the next six weeks, campaigners have said.
The Support Stafford Hospital Group started its demonstration on Friday against plans to downgrade services.
Mid Staffordshire NHS Trust is to be scrapped in November with services including paediatrics and critical care being moved to other hospitals.
More than 30 tents remain on fields opposite the hospital. The trust said it would not move the protestors on.
Julian Porter, from Support Stafford Hospital, said: "We are determined to keep on fighting.
"We are planning to stay here indefinitely but with it being the school holidays I'm sure it will be supported for at least the next six weeks or until we get a positive response from the NHS or the Trust."
Lol Barnes, from Stafford, who is camping with her family, said they had been given donations of food, gazebos and chairs from people visiting the hospital.
The protest camp followed a decision on Thursday to turn down two applications for a judicial review over the downgrading plans, although appeals are expected to be submitted.
From November, Stafford Hospital will become part of the University Hospital of North Staffordshire (UHNS) while Cannock Hospital, also currently run by the Mid-Staffordshire trust, will become part of the Royal Wolverhampton Trust.
The trust has been in administration since April 2013, after Monitor said it was clinically and financially "unsustainable".
Trust chief executive Maggie Oldham said: "We respect the rights of campaigners to express their views on the future of services.
"I have received reassurances from the organisers that there will be no disruption to patients or visitors."