Stafford Hospital judicial review bids rejected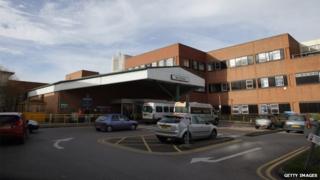 Two applications for a judicial review of plans to downgrade services at Stafford Hospital have been rejected.
The submissions, lodged in May, were from Labour parliamentary candidate Kate Godfrey and a member of campaign group Support Stafford Hospital (SSH).
SSH, which has said the campaigner submitted papers in Cardiff, said an appeal would be lodged.
Ms Godfrey, who had lodged papers in Birmingham, said she also intends to appeal.
A Department of Health spokesperson said its conclusions were made after extensive consultation and it was "satisfied with their [administrators'] recommendations in line with the requirements set out in legislation".
Plans to dissolve the Mid-Staffordshire NHS Trust and downgrade maternity services, paediatrics and critical care were confirmed by Health Secretary Jeremy Hunt in February.
The Mid Staffordshire NHS Trust was criticised in February 2013 in a public inquiry headed by Robert Francis QC for causing the "suffering of hundreds of people" in its care between 2005 and 2008.
It was taken over by administrators two months later.