Suicide council worker Philip Atkins 'was bullied'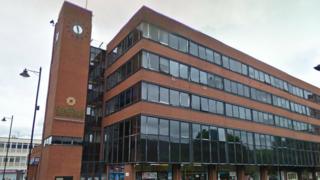 Workplace bullying and stress were factors in the suicide of a planning officer found hanged in a Staffordshire forest, an inquest has heard.
Philip Atkins, 45, was found near Kingsley Wood Road, Rugeley on 3 May.
His widow, Nicola Atkins told the inquest in Cannock he was being victimised by colleagues at Stafford Borough Council's planning department.
South Staffordshire coroner Andrew Haigh recorded a verdict of suicide.
The coroner said Mr Atkins was also affected by the death of a colleague and problems in his marriage.
The inquest heard he had grown up in Stafford and had worked for the borough council for 27 years, since leaving school at the age of 18.
Ms Atkins said she had spoken to him the night before he was found dead but there was no indication he intended to take his own life.
She said she had found warning letters sent to Mr Atkins, which were the results of meetings about his performance and ability to meet deadlines.
"He was very distressed at work and worried about losing his job," she said.
"[The council] were very heavy with him and I feel he was being bullied there."
'Culture of bullying'
He was also affected by the suicide of a planning department colleague in 2013 and he kept the order of service from her funeral in his car, the inquest was told.
In making his ruling, Mr Haigh said it was clear Mr Atkins "was unhappy in his work".
"It would appear that the view of the council was that Phil's situation was not as serious as Phil thought it was but he was clearly very much distressed by what was going on," he said.
"There were other problems in Phil's life and in his marriage, and he was affected by low moods at times."
Speaking after the inquest, Ms Atkins said she wanted a further investigation into whether there was a "culture of bullying" at Stafford Borough Council.
A spokesman for the council said the authority treated allegations of bullying very seriously, but that it had received no such complaints concerning Mr Atkins throughout his 27 years of service.