Five day 'dog in hole' search in Tunstall called off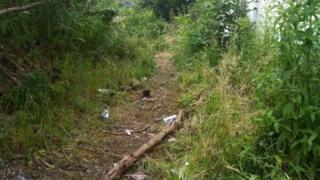 A five-day search for a missing dog thought to have been stuck in a hole in the ground has been called off.
Members of an animal charity reported seeing the "distressed" animal fleeing towards land near Tunstall cemetery, Stoke-on-Trent, on Monday.
Fire crews used specialist search equipment on Friday in an attempt to find the Staffordshire bull terrier, but could not locate it underground.
Volunteer Jane Wrench said the result was "disappointing".
Ms Wrench, from charity Pebble's Legacy, appealed for information to help trace the dog, which is described as an adult dog that may have been injured.
Staffordshire Fire Service said it was first contacted on Monday, but a search using thermal imaging cameras found nothing.
The service then sent specialist listening equipment to the scene at around 15:24 BST on Friday after a further call. They left the scene at about 18:00.
The hole has now been filled in.