Former Royal Doulton factory buildings demolished after fire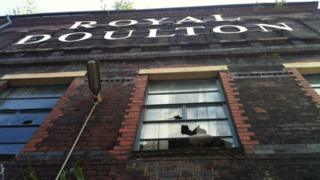 Demolition work has begun on a former pottery factory site in Stoke-on-Trent which was severely damaged by fire.
The blaze at the derelict Royal Doulton building in Nile Street, Burslem, burned for 27 hours after an arson attack on 27 June.
The fire service had asked owners St Modwen to knock it down.
It started work on dismantling buildings on the site earlier after it was issued with a notice for demolition by Stoke-on-Trent City Council.
Staffordshire Fire and Rescue service said it wanted the building taken down because it had been subjected to several arson attacks since it closed in 2005.
St Modwen's regional director, Mike Herbert said: "Following a detailed structural and safety investigation, reports have been supplied to the council who have now issued St Modwen with a notice requiring the demolition of the severely fire-damaged buildings at the former Royal Doulton site.
"The remaining buildings on the site are currently being further investigated and potential demolition is being discussed with the council."
Historian Fred Hughes, who lives near the site, said: "The structures are completely crumbling, windows are smashed and broken - clearly, something has to be done.
"But as soon as these buildings are down I'm sure Burslem would like to see plans for new businesses and new properties coming up on this site."
Plans to build 140 houses were put on hold in 2012 after St Modwen failed to reach an agreement with the city council.
Mr Herbert said he hoped to revitalise the scheme and a revised planning application could be sent to the council in the next two to three months.