Suspended surgeon Roger Bainton 'harmed' 18 face and skull patients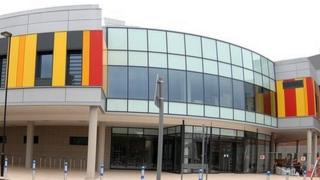 A surgeon at a Staffordshire hospital harmed 18 people while treating them for skull and facial injuries, an investigation has found.
The University Hospital of North Staffordshire reviewed treatment given by Roger Bainton to 88 of his patients.
Mr Bainton was suspended by the hospital trust in February 2013.
The General Medical Council (GMC) said it was investigating Mr Bainton and restricted what procedures he could carry out.
The surgeon rebuilt the faces of assault or accident victims.
A report by the Royal College of Surgeons showed in some cases he used an unproven and experimental bone substitute, called DBX, to treat damaged and fractured eye sockets.
He also carried out "unnecessary surgery" on people with jaw injuries, it said.
'Profoundly sorry'
Mr Bainton was prevented from using DBX and operating on patients with skull disorders while the inquiry into his work was carried out.
Hospital medical director Robert Courteney-Harris said he was "profoundly sorry" to those patients who had been harmed.
"They can have absolute confidence that they will receive the best possible care and treatment from our senior oral and maxillofacial consultants," he said.
A new consultant with "an interest in trauma" took up his post in March, the trust said. Mr Bainton remains suspended while the investigation is ongoing.
It said it had written to 36 more patients to attend a routine clinic to review their past care and treatment by Mr Bainton.
Kashmir Uppal, from Thompsons Solicitors, which is representing about 60 of Mr Bainton's patients, said: "It's not as simple as the hospital saying it's just 18 out of 88 patients who were harmed.
"We don't know what criteria they were using and we will continue to carry out our own independent investigation to see whether our clients received appropriate care."
The BBC has been unable to contact Mr Bainton for comment.