Stoke-on-Trent £1 houses: New owners move in to homes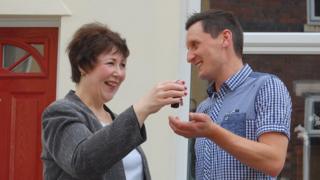 Owners of some homes in Stoke-on-Trent which were sold for £1 have moved in after renovation work was finished.
The city council put 33 homes up for sale in a bid to revamp the area around Portland Street in Cobridge. The houses had previously faced demolition.
Buyers took out £30,000 loans from the city council to complete essential repairs to roofing, floors, and install new bathrooms and kitchens.
The authority said it had sold 32 homes and was in talks to sell the final one.
'Fell through hole'
Warehouse worker Matthew Thompson, 35, and his girlfriend Kasie Czarna moved into their new terrace home on Rutland Street on Thursday.
He said: "It's a great opportunity, even though it is a run down area, there is a lot of money going into it to make it better.
"I've met a lot of the other people who are moving in, good working people who just want to live in a nice area and we're looking forward to building a strong community."
Bus driver Lawrence Poxon, 48, picked up his keys for his new home in Denbigh Street on Thursday but said he still had decorating to do before he could move in with his wife Teresa.
"When we first came to see the house, Theresa fell through a hole in the bedroom floor where the wood was rotten but the transformation has been amazing," he said.
"This deal was perfect for us because at my age, I would have had no chance getting a decent mortgage unless I worked up until I was 80."
The scheme has been part funded by £1.5m from the government, which the council had to match fund.
The authority's cabinet member for housing, Joy Garner said: "The £1 houses project may initially have sounded like a gimmick, but it has been astonishing how quickly interest in this project has spread.
"It is helping to regenerate an area of the city which has been through difficult times and create a new sense of community."
Many of the houses now owned by the council were bought from private landlords and were due to be demolished under the Pathfinder programme, which was scrapped by the government in 2010.