Staffordshire New Vic wins £2.8m Arts Council cash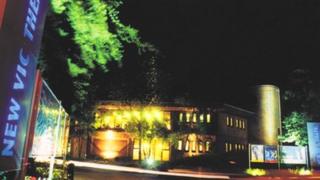 Staffordshire's New Vic theatre is to receive £2.8m funding from Arts Council England.
Awarded over three years, it will be partly used to upgrade technology and redevelop the front of house.
The grant is one of series totalling £340m announced by the council for organisations across the country.
It said the grants were made on a number of factors, including the ability to ensure more people were engaging in the arts.
Artistic Director of the New Vic Theresa Heskins, said the three-year funding meant it could plan ahead and would benefit some of its collaborations with other production companies.
She added the award acknowledged the Newcastle-under-Lyme theatre's role in the local community and the educational work it carried out.
Ms Heskins said Arts Council England had separately committed to help fund a special series of productions in summer 2015, inspired by the discovery of the Staffordshire hoard.