Staffordshire hot tub fraudsters jailed for duping hundreds of customers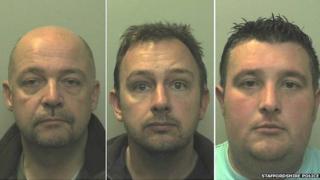 Three bosses of a hot tub company who defrauded hundreds of customers have been jailed.
Simon Foster, 49, Stuart Cox, 40, and Jonathan Husselbee, 37, failed to fulfil about 400 orders from their firm in Rugeley, Staffordshire.
They denied conspiracy to defraud, but were convicted after a three-month trial at Stafford Crown Court.
Foster was jailed for three-and-a-half years, Cox two-and-a-half years and Husselbee two years.
'Lied and misled'
Staffordshire Police said the company, Spaserve, went bankrupt in October 2010, leaving debts of £2.7m.
The three men took £1.2m of company funds between them, police added.
Police said it is thought Spaserve sold 2,000 hot tubs between April 2007 to October 2010, but only delivered about 1,600.
They said the three men lied "and misled customers...as to the origin of the hot tub and how long they would take to arrive".
An investigation was launched in summer 2010 following "numerous complaints from disgruntled customers" who had never received goods or were sent faulty items.
Foster, Cox and Husselbee were found guilty by a jury in February.