Michael Fabricant to 'take more care' after Yasmin Alibhai-Brown 'joke'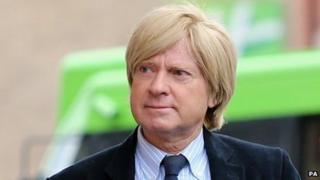 An MP who said he might punch a journalist "in the throat" if he appeared on television with her says he will now tweet with "more care."
Conservative Michael Fabricant apologised for tweeting the remark after Yasmin Alibhai-Brown took part in a Channel 4 News debate.
The Lichfield MP now says he may be "more cautious" on Twitter.
He said: "I hope my spontaneity will not be diminished by this episode. It makes me what I am.
"But my report card reads 'must take more care in future'."
David Cameron condemned Mr Fabricant's remarks but said no further action was necessary.
Ms Alibhai-Brown had said she was shocked and called on the prime minister to withdraw the party whip.
Mr Fabricant added: "Out of 23,513 tweets, the one on Friday is the only one I regret sending.
Misreading tweets
"Through all my tweeting I have tried to show that I am an imaginative and likeable individual with views on Europe, the economy, and social and many other matters.
"But because I am a Conservative MP, my tweets are scrutinised far more than if I were, say, a journalist.
"And just occasionally, I realise now that my tweets might be taken the wrong way either by people misreading them or deliberately for political advantage."
The former Tory whip was sacked as a vice-chairman of the Conservative Party after he criticised the HS2 rail scheme and made online comments about the Maria Miller expenses row.