Wedgwood site: Work starts on £34m redevelopment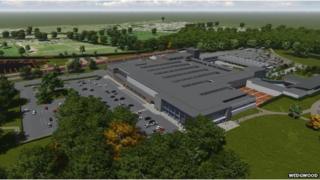 Work has started on a £34m redevelopment of a Staffordshire pottery site, the company has said.
Managers said the redevelopment of Wedgwood's 281-acre (114 hectare) site at Barlaston would create 102 new jobs and protect 400 existing ones.
The work has been supported by a £5.1m grant from the Regional Growth Fund.
The development will include new manufacturing facilities and offices, an expansion of the visitor centre and 209 new homes.
Anthony Jones, the company's executive vice-president, said a "significant number" of the new jobs would be in the new manufacturing centre, which is planned to increase production by 20%.
He said: "We expect to move in to new facilities in early 2015 and by Easter 2015 our new Wedgwood visitor experience will be fully open.
"We are confident this exciting new venture will result in significantly increased visitor numbers both to Wedgwood and to the region as a whole."
He added the development was a "major step forward" for the company, which was founded in 1759 by Josiah Wedgwood and now belongs to a group of companies named WWRD.