Stoke on Trent building fire closes A50 in Tunstall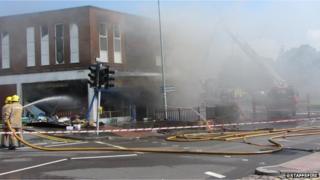 Fire crews have dealt with a large fire in Stoke on Trent which broke out on Sunday night.
The A50 in Tunstall and roads surrounding the junction of Scotia Road and Haymarket are closed.
The two-storey building houses a number of businesses. Fire crews remained at the site overnight.
Tunstall Councillor Lee Wanger said: "This is a major artery into the town and it will cost businesses being closed but we will bounce back."
Zahid Mahmood, manager of the Subway branch on Tunstall High Street, said: "We've stayed open but we've served few customers as there have been no buses or cars able to access the area."
The Mr Big Deal building is at the heart of the fire, according to Staffordshire Fire and Rescue Service.
Neighbours to Tunstall High Street have been warned to keep doors and windows closed due to the black smoke billowing from the blaze.
The cause of the fire is not likely to be known until firefighters examine the scene on Tuesday.
The neighbouring property to Mr Big Deal has been damaged by smoke.