Michael Fabricant apologises for Yasmin Alibhai-Brown 'joke'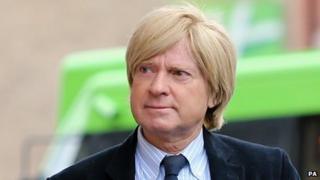 A Conservative MP has apologised for saying he might end up punching a journalist "in the throat" if he appeared on a discussion show with her.
Michael Fabricant tweeted the remark after Yasmin Alibhai-Brown took part in a Channel 4 News debate.
Ms Alibhai-Brown said she was shocked and called on David Cameron to withdraw the party whip.
But the prime minister said Mr Fabricant's apology was adequate and further action was unnecessary.
The tweet said: "I could never appear on a discussion prog with @y_alibhai I would either end up with a brain haemorrhage or by punching her in the throat."
Newspaper columnist Ms Alibhai-Brown said an apology from the Lichfield MP was not enough.
"The Tories can't bear people like me," she said.
"They expect people like me to be their ayah [nursemaid], wiping their bottoms or selling them cigarettes in the corner shop; this idea of a nursing maid looking after their children.
"They cannot accept we are confident."
Ms Alibhai-Brown took part in a Channel 4 News debate with columnist Rod Liddle on Thursday night.
'Utterly appalling'
Mr Fabricant later used Twitter to say sorry.
He said: "If anyone believes I would seriously threaten someone with violence, I of course withdraw and apologise."
In another Tweet he said: "Sorry @y_alibhai if you actually thought I would punch you. I actually don't do that sort of thing. But you are utterly infuriating! xx"
He also posted a picture of himself taking part in a walk in Lichfield to raise awareness of domestic violence.
The picture, which the BBC understands was taken by the Lichfield District Council leader's wife, shows Mr Fabricant wearing a pink shirt, pink trousers and feather boa and holding a sign saying "real men don't hit women".
The former Tory whip was sacked as a vice-chairman of the Conservative Party after he criticised the HS2 rail scheme and made online comments about the Maria Miller expenses row.
On that occasion he tweeted: "Maria Miller has resigned. Well, about time."
Mr Cameron condemned Mr Fabricant's latest remarks and told LBC radio it was right he had apologised.
"Let's be clear, it's a completely unacceptable thing to say and it's right that he apologised and he retracted and he apologised fully," he said.
"I think further action isn't necessary, but no-one should be in any doubt that it's just not an acceptable thing to say and Michael Fabricant knows that that is my view and I don't want to see this happen again."
Labour leader Ed Miliband said he was "horrified" by the tweet.
He said: "I don't think it has any place in politics, or frankly in our society, the kind of things he was saying.
"I think it's absolutely right that he apologises and I think, frankly, David Cameron has got to explain to him.... that this kind of thing isn't acceptable and it must never happen again."
MP Gloria De Piero, shadow minister for Women and Equalities, described the tweet as "utterly appalling".
"It is unacceptable that views like this persist in the Conservative Party," she said.
Speaking to the PM programme on BBC Radio 4, Mr Liddle said: "I don't think that what he was suggesting was violence against women or violence against Asians or violence against anyone.
"It was a flip comment which he probably shouldn't have made and he's apologised for it."