MBE for fundraiser Stephen Sutton in Birthday Honours list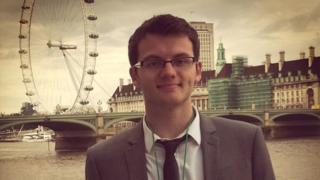 Teenage cancer fundraiser Stephen Sutton has been appointed MBE in the Queen's Birthday Honours.
The 19-year-old, from Burntwood, Staffordshire, accepted the honour before his death on 14 May.
Stephen's story inspired people to donate more than £4m to the Teenage Cancer Trust after news of his story spread on social media.
His mother Jane said she was "truly delighted and immensely proud" that he had been recognised.
'Awesome honour'
Ms Sutton said the Cabinet Office had written to Stephen shortly before he died to ask if he would accept an MBE in recognition of his fundraising and services to the trust.
She said it was a "wonderful recognition" of her son's fundraising efforts and a fitting legacy for him.
"Although Stephen continually told all of us that he didn't do his charity work for recognition, even he acknowledged that to be appointed an MBE was 'awesome'," she added.
Trust Chief Executive Siobhan Dunn said Stephen had made "an enormous difference" to young people diagnosed with cancer.
"His achievements are outstanding and it is wonderful to see him honoured in this way," she said.
Stuart Evans, the head teacher of Chase Technology College where Stephen was a student said it was "a fantastic recognition of what he achieved".
"I think his fellow pupils will be excited and delighted and make them feel even more proud they knew him," he said.
The Dean of Lichfield, the Very Reverend Adrian Dorber, said the honour was a "wonderful recognition of a great and generous life".
A two-day vigil in memory of Stephen was held at Lichfield Cathedral ahead of his funeral.
Announcing the MBE, the Cabinet Office said it was "clear that Stephen touched and inspired a huge number of people".
"His ambassadorial work for the Teenage Cancer Trust was greatly appreciated by all those he helped," it added.
Staffordshire MP Bill Cash was made a knight in recognition of his political service.
The eurosceptic Conservative MP for Stone said he was "honoured and delighted" to receive the knighthood.
Robert Francis QC, who chaired the public inquiry into Stafford Hospital, was also knighted.
Johanne Tomlinson, staff nurse at HMP Stafford, was appointed OBE for services to prison nursing.