Burton and South Derbyshire College jobs at risk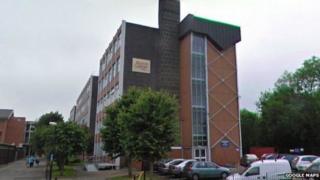 More than 100 jobs could go at Burton and South Derbyshire College because of government funding cuts, the Unison union has claimed.
The college said it could not confirm the number of jobs losses, but posts could go at both its Burton-upon-Trent and Swadlincote campuses.
It said the cuts were a result of its government funding being reduced by £2.1m for 2014/15.
Unison said staff felt like they "were being thrown on the scrap heap".
The college said it had begun a consultation with staff, which would be completed by 23 June.
'Further pressure'
A spokesman for the college said: "Reductions of this size leave us with no option but to enter into consultation.
"We are doing our utmost to reduce the impact of this loss of funding on our staff....[we are] seeking their views on the best way forward."
Unison's representative at the college, Kevin Lees, said: "It's been 12 months since the last redundancies were made at the college.
"Since then staff have worked extremely hard to achieve targets under difficult circumstances and are now faced with this dilemma which adds further pressure upon them."