Stephen Sutton portrait fails to sell at charity auction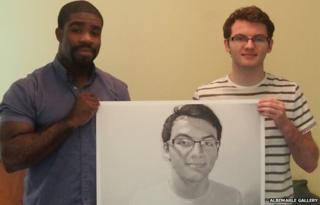 A portrait of teenage cancer fundraiser Stephen Sutton has failed to sell at auction.
Bidding on the pencil and charcoal drawing, by artist Kelvin Okafor, closed at 16:00 BST on Saturday.
Owner of the Albemarle Gallery, Tony Pontone, said he was "disappointed" the silent auction had not attracted more bidders and failed to meet its reserve.
He said the drawing would be donated to the Teenage Cancer Trust, to auction itself at a later date.
Mr Pontone had invited bids in excess of £7,500 with a view to paying any proceeds to the charity.
He said there had been "expressions of interest" but no serious bidders had come forward.
"It hasn't had the interest which the gallery and the artist had hoped for," he said.
Stephen, from Burntwood, died from terminal cancer aged 19 and was buried at a private family funeral on Friday after a two-day memorial vigil.
He became famous for his "bucket list" of things to do before he died, and raising over £4m for the trust.