Anger over Stoke City Council's Chelsea Flower Show garden allocation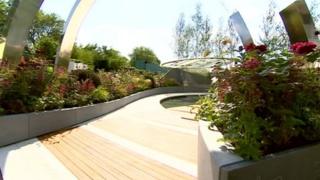 Money allocated for a garden at this year's Chelsea Flower Show has sparked criticism of Stoke-on-Trent City Council.
The authority set aside £450,000 for the Positively Stoke garden.
Critics said the sum is similar to proposed cuts to services for vulnerable adults in the region.
The authority said it was taking part in an event with a global reach which could lead to increased economic growth and wealth.
The council is still in the process of calculating how much was spent but said it would be "significantly less" than the total allocated.
'Spiral of decline'
But Councillor David Conway, leader of the City Independents group, said the decision made a mockery of the authority.
"Surely someone could have thought of a better way of promoting the city," he said.
The council, which announced plans to save £20m this year, agreed in November to set aside £450,000 for the design, construction and promotion of the garden, which won a silver gilt award.
The money also paid for 40 tickets so representatives, including Council leader Mohammed Pervez, deputy leader Paul Shotton and chief executive John van de Laarschot, could attend.
Mr Conway said just £35,000 was spent on the event in Birmingham, where the President's Award was won.
A spokesman for Stone-on-Trent City Council said the Chelsea Flower Show activity enabled them to promote the city, its industry and its "enormous potential", to a "highly influential list of key figures from the worlds of government, business, investment and energy".
"The only way we can avoid a continued spiral of decline is to generate new economic growth and wealth to provide the resources the city needs," it said.
"The BBC reported that Chelsea was the UK's biggest networking event for business and commerce. It has significant global reach."