Second judicial review bid over Stafford Hospital downgrade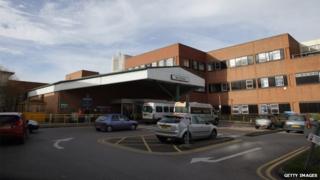 A second bid has been lodged for a judicial review into plans to downgrade services at Stafford Hospital.
The Support Stafford Hospital (SSH) campaign said it was made by a person linked with the group who wishes to remain anonymous.
SSH said it was not behind the action itself, but two of its founding members were supporting the individual.
Labour parliamentary candidate Kate Godfrey lodged papers for a judicial review on Friday.
Plans to dissolve the Mid-Staffordshire NHS Trust and downgrade maternity services, paediatrics and critical care were confirmed by Health Secretary Jeremy Hunt in February.
SSH said the anonymous campaigner, who had been given legal aid, submitted the papers at a court in Cardiff on 27 May.
The group's chairwoman, Sue Hawkins, said it had taken legal advice and decided to pursue other legal options but it would be "monitoring the situation".
A Department of Health spokesperson said its conclusions were made after extensive consultation and it was "satisfied with their [administrators'] recommendations in line with the requirements set out in legislation".