Stoke-on-Trent methane gas power plan scrapped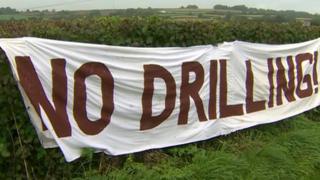 A plan to extract methane gas from coal beds to power homes and businesses in Stoke-on-Trent has been abandoned.
Stoke-on-Trent City Council said no firms had expressed an interest in harvesting the gas, which its work showed was more difficult to extract than initially thought.
Campaigners welcomed the decision but the council said the scheme could be revived in the future.
It has spent more than £400,000 researching the proposal.
When its plans were approved, the council said the scheme would give manufacturers lower energy bills which would encourage investment in the city.
Andrew McDermott, from the British Ceramics Confederation, said: "Ceramic manufacturing here in Stoke and nationally is gas intensive... and for manufacturers to be able to survive and thrive we need internationally competitive gas prices."
Sheena Bratt, from the Gas Free Stoke campaign group, said: "Our main concern was the absolutely devastating environmental consequences we've seen in other places where this industry has taken hold."
The council said it remained committed to providing "greater energy security" and would continue to invest in energy improvements.