Christopher Goodhead: Widow wins £50,000 payout after cancer failure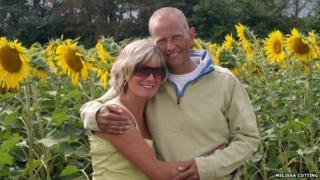 The widow of a man who died after a GP failed to spot he had bowel cancer has won a £50,000 payout.
Christopher Goodhead, a father of four from Burton upon Trent, died in 2009 aged 41.
In a High Court claim Mr Goodhead's widow, Melissa Cutting, said a wrong diagnosis from his GP in Essex stopped him getting lifesaving treatment.
The judge, Mrs Justice Patterson, ruled Mr Goodhead's care from Dr Asim Islam, was "sub-standard".
Dr Islam expressed "sincere sympathy" for the family.
'Amazing husband'
The hearing at the Royal Courts of Justice heard Mr Goodhead, an IT consultant, visited Dr Islam at the Stansted Surgery, near the family's Essex home, complaining of rectal bleeding in 2005.
The judge said Dr Islam's failure to diagnose Mr Goodhead correctly had "cut short" Mr Goodhead's life.
"[This] would have extended Mr Goodhead's life by a period of some four months," she said.
Speaking after the ruling Mrs Cutting, who now lives in Suffolk, said Dr Islam had told Mr Goodhead he had piles.
"As a result he carried on with life, not knowing that the bleeding was, in fact, caused by a bowel tumour," she said.
"By the time he was finally diagnosed, over two years later, he was absolutely riddled with cancer and it was terminal."
She added Mr Goodhead, a marathon runner, was, "the most amazing husband and a truly devoted father who was utterly devastated to have to leave his family at such a young age and in such a terrible way.
"It breaks my heart to know he lost a significant opportunity to be cured, or at the very least to gain more time with us, simply because he wasn't given the advice he should have been."
Mrs Cutting had claimed £1.5m in damages but since the judge found Mr Goodhead would have died regardless of an earlier diagnosis, compensation was agreed at £50,000.
Dr Islam said: "I would like to express my sincere sympathy to Mrs Cutting and her family for their loss."