Stephen Sutton portrait auctioned for Teenage Cancer Trust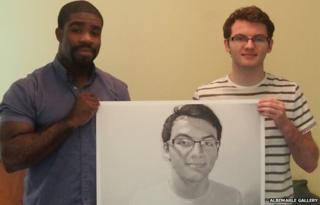 A portrait of teenage cancer fundraiser Stephen Sutton is being auctioned in London to raise money for charity.
It was painted last year by artist Kelvin Okafor as part of Stephen's "bucket list" of experiences.
He managed to complete many of the 46 items before he died on Wednesday.
The portrait was due to be sold on Saturday, but the Albemarle Gallery said the auction would now remain open for bids until 31 May, with money going to the Teenage Cancer Trust.
A spokesman said the decision to extend the auction had been prompted by Stephen's death and a wish to raise as much money as possible for his chosen charity.
Bids opened at £7,500.
Kelvin Okafor, from Tottenham, has scooped a number of national awards for his photorealistic pencil drawings.
The gallery said Stephen, 19, had been put forward as a potential subject by a West Mercia Police officer after hearing about his "bucket list".
Diagnosed with terminal cancer at aged 15, Stephen, from Burntwood in Staffordshire, died on Wednesday.
Items he managed to complete on his list included going crowd surfing in a rubber dinghy, getting a tattoo and drumming in front of 90,000 people before the Uefa Champions League final at Wembley last year.
He used the bucket list to help raise money for the Teenage Cancer Trust and his appeal currently stands at more than £3.8m, by far the biggest single donation in the charity's history.