Tributes paid to cattle 'stampede' victim Peter Jakeman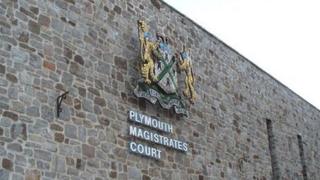 Tributes have been paid to a former magistrate and town councillor from Cornwall killed in a cattle "stampede".
Peter Jakeman, 62, from Callington, was fatally injured while walking on the Derbyshire/Staffordshire border on Wednesday.
Callington town councillor Jeremy Gist described Mr Jakeman, who had also served as a magistrate in Plymouth, Devon, as a "gentleman".
The death is not being treated as suspicious.
'Shock and disbelief'
Former Callington councillor Mr Jakeman was walking at Upper Mayfield when he was trampled by animals. He was taken to hospital but later died as a result of his injuries.
Mr Gist, who said he had known Mr Jakeman for many years, said he had taken the news with "shock and disbelief" and had been "totally knocked sideways".
Speaking to the BBC, he said: "He was a decent gentleman who you could always rely on. He was absolutely straight.
"Here was a guy who worked hard, served in the community in lots of different ways, and was looking forward to a retirement of enjoying a favourite hobby - walking."
Mr Gist said Mr Jakeman had been in Callington for a number of years and "instantly started to get involved [in the community] when he moved to the area".
Staffordshire Police said his death was not being treated as suspicious and had been referred to the Health and Safety Executive.