School caretaker 'narrowly escaped death'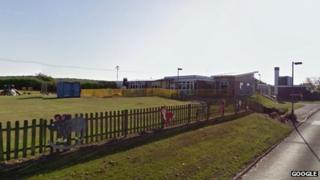 A council has appeared in court after a 73-year-old caretaker "narrowly escaped death" when he fell from a roof.
Trevor Burbridge, caretaker at Chase View Primary School, in Rugeley, fell nearly 3m (9ft 10in) from the school porch roof on 2 May 2012.
The Health and Safety Executive (HSE) said Mr Burbridge had suffered "life-changing injuries".
Staffordshire County Council has been charged with breaching a work at height regulation.
The HSE said Mr Burbridge had "narrowly escaped death" and had been forced to retire.
He was in an induced coma for seven weeks and was twice successfully resuscitated after he had stopped breathing.
Stafford magistrates adjourned the case to Stafford Crown Court on 18 August.