Stafford Hospital whistleblower Helene Donnelly collects OBE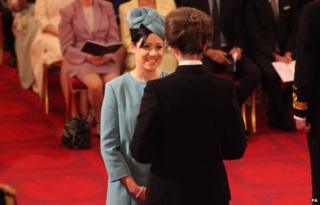 A former Stafford Hospital nurse turned whistleblower has been appointed an OBE for her services to the NHS.
Helene Donnelly was given the honour in recognition of her work to support hospital staff to raise concerns and improve care for patients
Ms Donnelly, from Gnosall, near Stafford, was a key witness during a public inquiry into reports of poor care and abuse at the hospital.
She picked up her OBE from the Princess Royal at Buckingham Palace.
During her time as an A&E nurse at Stafford, Ms Donnelly raised almost 100 complaints about patient treatment.
She is now an ambassador for cultural change at the Staffordshire and Stoke-on-Trent Partnership NHS Trust and works to relay staff concerns to the chief executive.
Ms Donnelly said she felt "hugely privileged" to receive an OBE.
"For me I really think this marks a turning point and I hope I will be the first of many others who come forward to speak out," she added.