Jason Manford gig to support Stephen Sutton sells out in minutes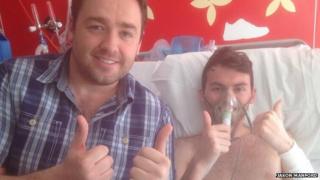 A last-minute gig organised by Jason Manford to support the fundraising campaign of a terminally ill teenager has sold out "within four minutes".
Cancer sufferer Stephen Sutton, 19, from Burntwood in Staffordshire, has already raised £2.5m for the Teenage Cancer Trust - more than doubling his initial target.
More than 97,000 individual donations have been made on his JustGiving page.
The comedy show will take place at Players Bar in Birmingham on Sunday.
The tickets for the £20 gig, which Mr Manford and other comedians including John Bishop will perform in, went on sale on Friday
The comedian tweeted: "Sold out in 4 mins!"
Mr Sutton wrote on Facebook on Friday: "Currently, I am feeling well and would describe my current situation as stable.
"I don't want to over-dramatise things too much, but I do just want to mention that everyone's positive thoughts and support has been hugely appreciated, so thank you for that.
"I've always been a firm believer that people are 'good', and to see people come together for the cause recently in the way they have is incredibly touching and heart-warming.
Mr Sutton has also posted a new film about his life on YouTube.
He was diagnosed with bowel cancer aged 15.
Despite surgery, the aggressive cancer spread to different parts of Mr Sutton's body and after further treatment and operations, doctors concluded it was incurable.
The teenager decided to set up a 'bucket list' of 46 things to do before he dies, which included playing the drums in front of 90,000 people, skydiving and getting a tattoo.