Set of human glass eyes auctioned in Lichfield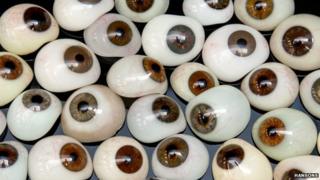 A collection of 74 glass eyes have been sold for £940 at auction, hundreds more than estimated.
The glass eyes, dating back to the 1920s or 1930s, were sold at a Hansons sale in Lichfield, Staffordshire.
The auctioneers said the prosthetic eyes, made in Germany using a glass blowing technique, were expected to fetch between £200 and £300.
They were uncovered in a chest of drawers at a house in Lichfield and taken to an antiques valuation day.
Hansons manager Charles Hanson said a client visited with what at first glance appeared to be a "fairly mundane" box.
He said: "I expected to unearth the usual array of cutlery stored in such a box, and was somewhat surprised to find 74 glass eyes looking up at me.
"These glass eyes really are remarkable, with most of the eyes measuring approximately 2cm across, and with different veined examples and different colours - varying shades of brown, through hazel and on to blue."
Mr Hanson said there was "great interest from collectors worldwide for such quirky collectables from a vintage era of production".
The history of prosthetic eyes goes back to 2000 BC when the first artificial eye to be worn in a socket was made of gold, Hansons said.
But it was not until the late 16th Century that Venetian glass houses began to manufacture glass eyes, the auctioneers added.