Staffordshire rock climber seriously injured in fall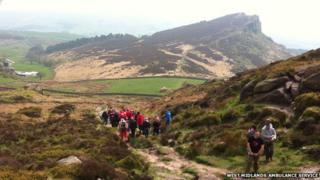 A rock climber is continuing to receive hospital treatment being seriously hurt in a 10m (33ft) fall in Staffordshire.
He was rescued by Midlands Air Ambulance and Buxton Mountain Rescue from The Roaches in the Peak District National Park at 12:30 BST on Sunday.
The man, in his 30s, was flown to hospital with a broken collarbone, shoulder injuries and back pain.
He had been free climbing, in which participants may use equipment for safety but not for help in ascending.