Buyer found for Blackbrook zoo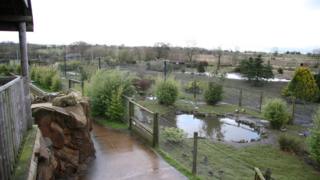 An under-threat zoo has been saved after a buyer was found.
Blackbrook Zoological Bird Park, near Leek, Staffordshire, entered administration in March after a series of financial problems.
Administrators selling it as a going concern said they had received "several serious offers" and had accepted one.
They said the identity of the buyer, which runs another zoo in the UK, could not be revealed as contracts had yet to be exchanged.
The deal is expected to be completed in four weeks.
'Right bid'
Glyn Horsley, who runs the reptile house at Blackbrook as a separate business, said it was a "definite load lifted off our shoulders".
"We were concerned who would buy it, but it seems like the right people have made the right bid.
"We're looking forward to sitting down with them and discussing how to take Blackbrook forward to where it should be."
Head keeper Becky Downing said it was "brilliant news" for Blackbrook, although there were still questions over whether all the jobs were safe.
Blackbrook opened in 1991 and is home to about 200 species of birds as well as several other animals.
Over the years it has also run breeding programmes for some of the more endangered birds, including the Darwin's Rhea.
The zoo had a guide price of £300,000-£350,000, although administrators have not revealed the final sale price.
Phil Wood, from Barringtons Corporate Recovery, said the sale included all buildings and enclosures on the 30-acre site, as well as animals owned by the zoo.
About 90% of the animals, however, are owned by third parties and some of them, including the greater flamingos, were removed when the zoo entered administration.
Mr Wood suggested the various owners may offer to house them at Blackbrook long term, once they were aware of who had bought it.