Man wins 'first international North Korean half marathon'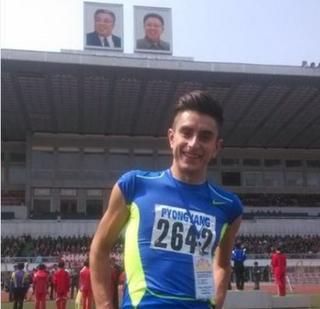 A runner from Stafford believes he has won the first North Korean half-marathon to be open to international amateur athletes.
Will Marks, who now lives in China, completed the half-marathon in Pyongyang in one hour and 23 minutes.
He received his winner's medal in one of the country's biggest stadiums, in front of 70,000 cheering supporters.
Mr Marks said the experience was "surreal" and had felt a bit like winning an Olympic gold medal.
Mr Marks said he had heard about the race through his running club in Shanghai and decided to enter.
'The middle of Wembley'
"I have just turned 30 and I'm keen to try as many new experiences as I can," he said. "It was very expensive to go there but I thought it was totally worth it."
He stayed in North Korea for three nights in order to run the race on Sunday.
The foreign competitors, whom he believes numbered about 150, were not allowed to travel around the city unaccompanied.
On the day of their arrival, they had to get changed into their race gear for an official inspection.
"Some people had to get changed out of their running gear because it had logos which the officials thought were too big," said Mr Marks. "One guy had to do the race in his jeans."
He said the course involved running laps of a 10km (6.2 mile) circuit of the city, through several city monuments, including North Korea's version of the Arc de Triomphe, before finishing in the Kim Il Sung Stadium.
"You had to run 500m around the track to the finish," Mr Marks said. "The stadium was packed and the crowds were all chanting and clapping.
"It was as surreal an experience as you can imagine. It was like standing in the middle of Wembley. It was like you had just won an Olympic gold."
A day later, foreign competitors were allowed to take part in a marathon in Pyongyang, with about 200 entrants from around the world racing 26.2 miles around the same streets of the city.
Mr Marks has also run races around a volcano in Java and across the grass plains of Inner Mongolia. He said he was not sure whether he would return to the North Korean event.