Consultant suspended over 'unnecessary' surgery claims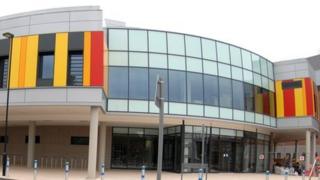 A Staffordshire hospital trust has suspended one of its consultants to investigate whether he carried out "unnecessary" surgery.
The University Hospital of North Staffordshire NHS Trust (UHNS) said 88 patients' cases were being reviewed.
UHNS said other doctors had raised concerns about the surgeon over his alleged use of a "new and unproven technique" and failure to consider non-surgical options.
He was suspended in February 2013.
UHNS said it was reviewing the past treatment of 88 patients who suffered "potential harm" during treatment.
As part of its investigation into the cases, the trust asked the Royal College of Surgeons (RCS) to provide an independent report.
The RCS report said: "The patients in the review have at least not been helped, and at worst have come to harm due to the standard of care provided."
'Sincere regret'
UHNS said 33 patients were treated using an artificial bone substitute. The RCS had viewed this as a "new technique, diverging from standard practice".
The trust also said 19 patients who had operations may "have experienced harm as a result of potentially unnecessary surgery" and non-surgical options should have been considered.
In the case of a further 36 patients, the RCS team said other options should have been considered before surgery was carried out.
Gareth Rowlands, clinical director of surgery, said the allegations had come to light after two of the consultant's colleagues raised concerns.
"We have also had a handful of complaints raised by patients as well," he said.
The hospital's medical director, Robert Courteney-Harris, said: "I should like to express my sincere regret and apologies to any patients who have, or may have, been harmed.
"We took immediate action as soon as serious concerns about specific aspects of this consultant's practice were brought to our attention and the consultant has not worked at the trust for more than a year."
The trust said once the patient review was complete, it would work with the regulatory bodies responsible for the consultant which would determine whether he should continue to practice.