Council to fund Stafford Hospital challenge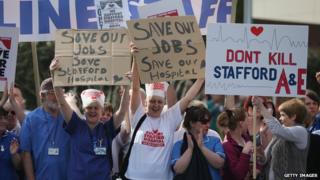 A council is to fund a legal challenge to the downgrading of services at Stafford Hospital, hit by care scandals over deaths between 2005 and 2008.
Proposals to downgrade maternity services, paediatrics and critical care were confirmed by the Health Secretary Jeremy Hunt in February.
The decision follows recommendations to Mr Hunt over standards and finances at the Mid Staffordshire NHS Trust.
Stafford Borough Council voted on Thursday to fund the legal challenge.
Deputy leader Mike Smith said the council would now talk to lawyers about what action could be taken.
The Conservative councillor said: "What the people of Stafford want, in the main, is a consultant-led maternity unit and that's what they will fight for.
"Obviously before we take any action, or spend any money, we will take legal advice to see whether there is a realistic chance of success."
'Small council'
Mr Smith added that a cap on any council spending was not decided at the meeting on Thursday.
"The borough council is a relatively small council, when it comes to the finances available to us," he said.
"So I can't see it being millions of pounds, it's got to be modest... perhaps a few hundreds of thousands of pounds."
The Support Stafford Hospital campaign group welcomed the decision by the authority.
Chair of the group, Sue Hawkins, said: "Stafford Hospital has turned itself around in recent years thanks to our wonderful loyal staff and we will fight to ensure the best possible outcome for our hospital and community."
The group said it was also in discussions about taking its own legal action against the government's decision.