Rodney Marsh to clean Stoke City players boots as forfeit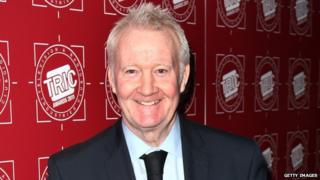 The former England striker Rodney Marsh is to clean the boots of every Stoke City player as a forfeit for losing an online argument with supporters.
Marsh tweeted in November he would "drive to Stoke and personally clean every players boots" if they were shown first on Match of the Day.
Stoke's 3-2 win over Chelsea was top of the programme's bill on 7 December.
The boots he cleans at the Clayton Wood training ground on 29 April will be signed and auctioned off for charity.
Marsh, who now lives in America said: "Last year I said that Stoke were too boring to be first on Match of the Day and I got a lot of pelters from fans.
"I offered this forfeit to the fans after they came back at me. I keep thinking 'why didn't I keep my mouth shut?'"
The boots, once cleaned, will be signed by the Stoke City squad and auctioned off with all proceeds going to the Donna Louise Children's Hospice in Trentham.
Marsh played more than 500 games for Fulham, Queens Park Rangers and Manchester City during his career.
He has also worked as a television and radio pundit.