Greater Manchester Marathon pogo stick record bid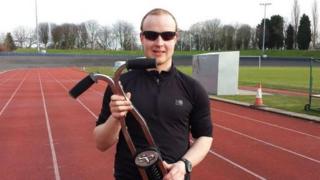 A student is attempting to get himself in the record books by completing a marathon on a pogo stick.
Jack Sexty, of Staffordshire, was hoping to pogo the route of the the Asics Greater Manchester Marathon in Trafford on Sunday.
Completing the challenge would make him the first person to complete a marathon on a pogo.
It would also make him the person to travel the farthest on a pogo in 24 hours.
The latter record is held by American James Roumeliotis, who covered 23.22 miles in 14 hours 32 minutes in 2011.
'Spare pogos'
Jack, from Penkridge in Staffordshire, was aiming to raise £2,000 for Alzheimer's Research UK and the Royal Manchester Children's Hospital.
He said: "The story comes from about 10 years ago when I pogoed to school and years later I was discussing it with friends and we wondered if there was a record for the longest distance.
"So I did an internet search and found there was a whole database of records and the record currently stands at 23 miles and I thought… if I can do a marathon I'll break that comfortably."
The 24-year-old, who studies journalism at Staffordshire University, is allowed a rest break every two hours. He also has access to spare pogos in case one breaks.
He said he hoped to complete the challenge in 12 hours.