Bereaved Staffordshire mother sent cancer scam email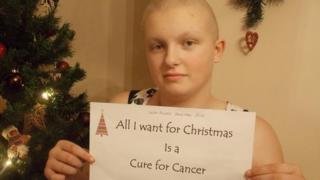 A Staffordshire mother who recently lost her daughter has been sent a scam email suggesting she has cancer.
Jane Powell, from Leek, lost her daughter Leah, 13, to cancer last year.
She said: "Any spam emails are awful, trying to get people's information, but especially ones using cancer, or any illness really, that can scare."
The email fraudulently claims to be from the National Institute for Health and Care Excellence (NICE), which is investigating its origin.
It is marked as urgent and tells the recipient to open and print the attached blood test results to take to the doctor.
The scam email reads: "During the complete blood count (CBC) we have revealed that white blood cells is very low, and unfortunately we have a suspicion of a cancer."
It is not clear exactly how many people have been sent the email.
Ms Powell received the email on Wednesday and said she was initially worried because she had recently been to the doctor for blood tests.
She then realised the mail was a hoax as it contained poor grammar and was addressed to her work, rather than personal, email address.
"How awful that they're using cancer to scare people to open an attachment," she said.
"I hope somebody will get prosecuted for it."
NICE is advising people to delete the scam email without opening its attachment.