Stoke councillors must stop 'attacks' on Crewe HS2 bid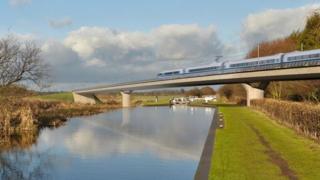 Attacks on Crewe's bid for an HS2 station by rival councillors must stop, a council leader says.
Both Crewe and Stoke-on-Trent are vying for a station on the high-speed line.
Cheshire East leader Michael Jones has asked to meet his Stoke-on-Trent counterpart Mohammed Pervez to discuss how to "collaborate" on the issue.
He said he would not respond to "political attacks" on Crewe, after a Stoke councillor branded the town "fourth division".
A decision on where the high-speed line will stop in the region is due later this year.
"I simply ask that your Labour members concentrate on the key issues, ensuring that HS2 provides a win-win scenario for everybody, rather than a nil-nil result, where nobody wins," Mr Jones said in a letter to Mr Pervez.
'Cordial relationships'
Mr Jones said some councillors in the city wanted to "deflect" Crewe from the opportunity of having an HS2 station.
A spokesman for Stoke-on-Trent City Council said Mr Pervez had offered to meet Mr Jones in his own letter sent over the weekend.
"At the end of the day, whichever case wins out, we have a mutual interest in ensuring that we continue to work together for the wider benefit of our people and the country as a whole," Mr Pervez said in the letter.
"I will always be happy to meet you to ensure cordial and positive working relationships are maintained."