Jack Russell rescued from rabbit hole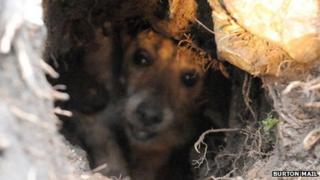 A dog which is believed to have been trapped underground for more than 24 hours has been rescued by firefighters.
The Jack Russell, called Vera, got stuck in a rabbit hole on the Jinny Nature Trail near Burton-Upon-Trent, Staffordshire.
Crews attended at about 12:30 GMT and, after digging for an hour, managed to free Vera from the 1m (3ft) deep hole and reunite her with her owners.
Firefighter Simon Cartlidge from Burton Fire Station said she was unharmed.
"The details are quite sketchy - I have no idea how she got in," he said.
"We were called by the owner who said his dog had been trapped underground for 24 hours.
"We could hear her yapping and when you put a hand in the hole you could feel her nose.
"It was just a case of digging away and getting the owner to call her name."
Mr Cartlidge added: "When she came out the owner could not thank us enough. She made a beeline straight for him."
The Jinny Nature Trail runs through countryside between Stretton and Rolleston.