Anonymous donor helps fund Staffordshire boy's surgery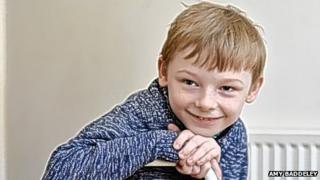 An anonymous donor has given thousands of pounds towards a young boy's potentially life-changing operation.
Ben Baddeley, nine, who has cerebral palsy, was due to have a procedure on his back in February but the NHS withdrew the funding.
His mother, Amy, 29, said a man paid nearly £7,500 directly to the hospital after seeing Ben's story in the news.
The selective dorsal rhizotomy costs more than £11,000 and the youngster will need also need aftercare.
Ben's parents have been trying to raise £20,000 in total to pay for the surgery, health insurance and continuing physiotherapy for their son, and said they would continue fundraising.
NHS England had said there was not enough evidence to show the surgery was clinically or cost-effective.
But the family, from Silverdale, Staffordshire, hope it will allow Ben to walk and play more easily, and possibly stop him needing a wheelchair in later life.
'So lucky'
Ben will need regular physiotherapy and hydrotherapy sessions after the surgery to help develop muscles in his legs.
Mrs Baddeley said the donation meant they could now concentrate on fundraising for physiotherapy and hydrotherapy equipment, including a specialised running machine for Ben at home.
While the donor wishes to remain anonymous in public, he has made his identity known to the family, after initially contacting them by email.
Mrs Baddeley said he is a successful businessman and grandfather-of-five.
"It's a massive weight off our shoulders. We've been so lucky," she said.
"The donor doesn't want to take the attention from Ben and his fundraising needs, but once Ben is up and walking we will definitely meet him - he's definitely on the Christmas card list."
Ben will undergo the first stage of the operation in Nottingham in April.