National Memorial Arboretum MoD grant cut a 'disgrace', says MP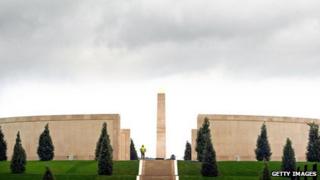 The cutting of a Ministry of Defence grant for the National Memorial Arboretum has been branded a "national disgrace" by the local MP.
Next year the the site, at Alrewas, will not receive an MoD grant-in-aid.
Lichfield MP Michael Fabricant, also the Conservative Party vice-chairman, said other military sites with similar visitor numbers would get grants.
The MoD said it had extended funding - which was due to end last year - with £625,000 sourced from Libor fines.
'An embarrassment'
The 150-acre National Memorial Arboretum includes the National Armed Forces Memorial.
Mr Fabricant said it attracted almost 245,000 annual visitors and "rivalled the Cenotaph in London".
He said the Royal Navy Museum had 585,276 visitors and would receive a £3,444,000 grant in 2014-15 while the National Army Museum, which had 254,108 visitors, would receive £6,540,000.
The arboretum - which is not permitted to charge admission fees - will not receive a grant-in-aid, although the MoD is not obliged to provide one.
"This is an embarrassment and a national disgrace," Mr Fabricant said.
The arboretum said it could not comment. But the BBC understands senior officials have discussed the issue with their counterparts at the MoD.
An MoD spokeswoman rejected Mr Fabricant's accusation it had cut funding.
"The Government has extended, not cut, funding to the National Memorial Arboretum," she said.
"When funding was due to end last year, the Government found a further £625,000 to maintain this important memorial to those who served our country."
She also said the MoD provided additional funding to preserve the Armed Forces Memorial.