Stoke councillor brands HS2 rival Crewe 'fourth division'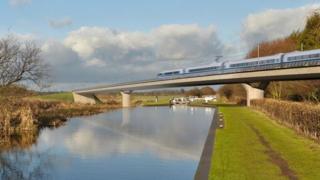 A Stoke councillor has branded HS2 rivals Crewe "fourth division" as the authority reaffirmed its bid to bring the high-speed rail link into the city.
The government's preferred route for the second phase of the line includes a spur junction to Crewe, but not Stoke.
Councillor Andy Platt said: "We are a Premier League city. Unfortunately Crewe is still in the fourth division."
Cheshire East Council, which includes Crewe, called on the two areas to work together.
'A league of their own'
Mr Platt, a Labour councillor, said bringing an HS2 stop to Stoke was "a once in a lifetime opportunity".
"We are not going to sit on our hands," he added.
However, Mohammed Pervez, who leads the Labour-led council, said Stoke, faced "a real struggle" for HS2 but said the city council would "fight until a final decision is made".
He said he would not rule out launching a judicial review, were the decision to go against Stoke.
The council was discussing its response to the national HS2 Phase 2 consultation.
It said it was developing a "robust business case" to try to bring the route to Stoke and agreed to spend £800,000 on the project, in addition to £150,000 already approved.
Michael Jones, leader of the Conservative-run Cheshire East Council, said: "I do agree Stoke has a Premier League football club. The leaders of Stoke-on-Trent Council, however, are in a league of their own.
"Why don't they work together with Cheshire East, rather than making fools of themselves?
"When it comes to HS2, plenty of people think Crewe is the real deal."
In February, Alison Munroe, chief executive of HS2 Ltd, said a link to the Potteries "has not been ruled out".
A decision is due later in 2014.