Staffordshire £32m energy scheme 'to create 20,000 jobs'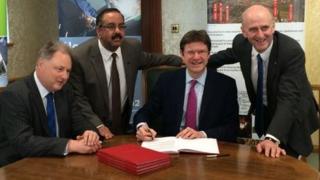 A £32m energy scheme will help create more than 20,000 jobs in Staffordshire, council leaders have said.
The Powerhouse Central project is being funded by the government's City Deal.
The money will be invested in various power schemes including using water from disused mines in Stoke-on-Trent to provide electricity for 1,000 homes.
Other projects include generating energy at the Four Ashes waste plant and backing the building of a new power station in Meaford, near Stone.
Stoke-on-Trent City Council, Staffordshire County Council and the Stoke-on-Trent and Staffordshire Local Enterprise Partnership are working together on the project with 40 local businesses.
A statement from the partnership said 9,000 job-seekers would receive training to get them back in to work.
'Manufacturing powerhouse'
About 3,900 apprenticeships and 1,100 traineeships aimed at 16 to 23-year-olds would also be created, it said.
County Council leader Philip Atkins said: "The result will be more, better paid jobs for Staffordshire people... and more, better support and opportunities for business to invest and flourish."
Stoke-on-Trent City Council leader, Mohammed Pervez, said he hoped the project would also attract a further £113m in private-sector investment over the next 10 years.
"Our aspiration is to grow the economy of Staffordshire and Stoke-on-Trent by 50% over the next 10 years, creating 50,000 jobs. This project is just part of that," he said.
Prime Minister David Cameron said the scheme would "hand the people of Stoke-on-Trent the power and freedom they need to grow their local economy and turn the city into a world-leading manufacturing powerhouse."