Fish returned to 'silage leak' pool in Staffordshire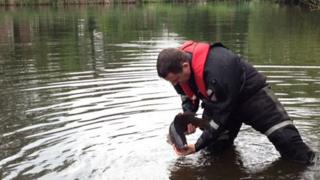 A Staffordshire fishing pool is to be fully restocked, two years after it was emptied of fish due to contamination.
Only a few fish were saved at Madeley Pool, near Newcastle-under-Lyme, in June 2012 after it was polluted by a silage leak.
In January, two farmers were fined £10,000 for polluting the pool and causing some 3,000 fish to die.
Investigations showed silage effluent had entered the pool after running along a stretch of the River Lea.
'Heart of the community'
Simon Oldfield from the Environment Agency said he hoped restocked pool would be a "focal point" for the village.
Mr Oldfield said the pool was "at the heart of the community" and residents had rallied round, trying to save the fish as they were dying.
He said 2,500 fish would be introduced to the pool, bringing stocks back up to full levels for the first time. In 2012 the fish saved from the pool were returned to the water.
Newcastle-under-Lyme borough councillor Simon White said: "Hopefully, things will return to normal and this will be a nice, clean breeding pond again."
Parish councillor Sue Roberts said: "The first sign the water was contaminated was when there were floating fish on the water.
"The village worked together and got paddling pools and nets. Any live fish were rescued and put into paddling pools or ponds and were looked after.
"It's all due to the residents we have the pool back to this standard."
Another councillor, Beryl Ruscoe, said the reintroduction was a "reflection of how pleased the agency is with the quality of the pool".
"They wouldn't restock if they thought the fish were going to die again," she said.