Blackbrook Zoological Park put into administration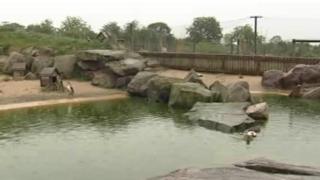 A Staffordshire zoo is up for sale after being placed in administration.
Blackbrook Zoological Park, in Winkhill near Leek, is home to more than 200 species of birds.
But after struggling to attract visitors, it is now in the hands of Newcastle-under-Lyme-based Barringtons Corporate Recovery.
Barringtons managing director Phil Wood said he was hopeful most of the seven workers would keep their jobs if a buyer could be found.
Run as 'hobby'
"If no-one comes forward then ultimately it will have to close, the stock will have to be dispersed and we will sell it as some land," he said.
Mr Wood said the 30-acre zoo had been run as "a hobby" in the past, relying on the support of a wealthy benefactor.
However, he said it had enjoyed some good visitor numbers, until last year, when poor weather and other problems meant only 8,500 people passed through the gates - down from 55,000 in 2012.
Blackbrook, in the Staffordshire Moorlands, opened in 1991, featuring many rare and endangered species of birds.
"It does need a bit of money spent on it but with some common sense and a bit of business acumen it can be made to look a lot better," Mr Wood said.
He added the zoo was remaining open while a buyer was sought and would be ideal for someone with a passion for wildlife.
The collection includes several varieties of penguins, as well as storks, flamingos and cassowaries. It is also home to other animals, such as meerkats and ring-tailed lemurs.
Over the years it has also run breeding programmes for some of the more endangered birds.