About 150 jobs to go in Stoke-on-Trent budget cuts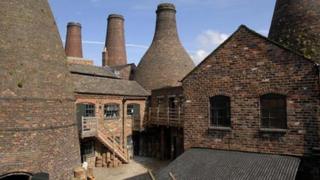 About 150 jobs are to be lost after £20m worth of budget cuts were approved by Stoke-on-Trent City Council.
The authority said 70 redundancies would be made and 80 vacant posts would not be filled in areas including management and waste collection.
Libraries in Meir and Trentham are to shut and funding for sheltered housing support workers will be reduced, the authority said.
It will also increase parking charges and leisure centre fees.
The Gladstone pottery museum will close for two days a week and unsocial hours pay for council workers will be cut to save about £670,000.
'A disgrace'
The Labour-run council said it needed to save £100m over the next four years, in addition to the £77m already cut since 2010.
Council leader Mohammed Pervez said: "The reality is year-on-year our officers jobs are under threat.
"But, we are trying to protect frontline services and trying to take out any inefficiencies in the back offices to provide services from a lower cost base."
The authority also voted to approve a capital plan to borrow £47m next year to help fund projects including the Central Business District in Hanley.
Independent councillor, Dave Conway, who voted against the proposals, said continuing to cut services was "a false economy".
"If the council keep making cuts it will end up with no staff and lose experienced officers. Yet, they continue to employ very expensive consultants to fill the gaps," he said.
"We have a duty of care to people in this city to provide them the best possible services but it seems like the council won't look at alternatives, it's just cut, cut, cut. It's a disgrace."