Stoke-on-Trent £1 houses: Renovation work begins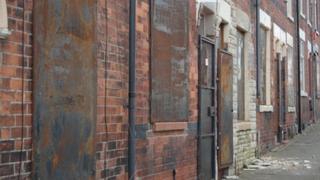 Work has begun on the renovation of 33 derelict houses in Stoke-on-Trent that are being sold for £1 each.
The city council offered the houses in the Cobridge area for sale but buyers must agree to remain in the property for five years.
The work will include roof and chimney repairs and the replacement of doors, windows and central heating systems.
The new owners will take out 10-year loans for £30,000 to pay the council back for the work.
The city council said 24 of the homes have been provisionally allocated to people - the new owners of the others will be decided in March.
The first occupants are expected to move into the homes in May or June, a spokesperson said.
More than 600 people applied to buy one of the houses. A further 89 homes will be offered for sale at a later date, the council said.
Anyone applying must have lived in the city for the past three years.
Other criteria they must satisfy include:
A joint income of £18,000 to £25,000 a year - £30,000 maximum if they have children
Applicants must have been employed for the past two years
They must not own another property
They must have the right to live permanently in the UK
The new house must be their main home for at least five years
The work will be done by Kier Stoke, who conduct repairs and home improvements for more than 19,000 council properties.
The company said it has employed 20 local subcontractors to carry out renovations.
These houses were originally going to be demolished and the area redeveloped until the government's £1bn national Pathfinder programme scheme was scrapped in 2010.